Host Your Own Flat Earth Radio Show!
We are currently seeking radio show hosts with online media experience to play a greater part in the Free Earth / Flat Earth Community by posting podcasts and live shows. Additionally, if you are new to the sport or would like to try it this may be your golden opportunity. We are very open minded here at Flat Earth Radio. We want everyone on this flat earth to succeed on whatever path they choose. If you have a golden voice or are technically minded or just have a "face for radio," you may become part of our flat earth world.
How does it work?
We have a server which can store podcasts or stream live from the computer in your home or studio. The broadcasting software is free and easy to use. The biggest hurdle is getting a microphone and learning how to use it. Then gather your notes, punch in at the right time and start talking!
What should I talk about?
Any subject you want..from a Flat Earth/ Free Earth perspective. It is really a wide open field. There are lots of ways to approach fact finding, story telling, research and reporting or general radio banter. We want it on our station as long as it is interesting to the listeners, .
Do I need special equipment?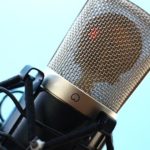 All you need is a desktop or laptop computer and a microphone. The mic on your computer won't work that well so a good unidirectional USB mic is required. Some are pricey but shopping around will find them for around 30 bucks.
Contact us here to reach out and get started.
Here are each

of the FERLive Hosts personal pages. Become a Host and you can customize your own page.